Anastasiia Morhun knew having a baby would change her life but there was no way to be ready for the war that Russia unleashed against her country on the day she gave birth to Roman.
"In one moment, everything was ruined," Anastasiia said.
Instead of quiet first moments between mother and newborn, Anastasiia and Roman spent their early time together in the maternity hospital bomb shelter, as air raid sirens howled and missiles struck across Ukraine.
Anastasiia was in pain from her caesarean section. It was, she said, "one long, long dark day".
"I was learning to be a mother," Anastasiia , 29, said. "But it was actually much easier than accepting the reality of war."
February 24 is forever etched in the collective consciousness of all Ukrainians — and for women who gave birth and men who became fathers as the bombs began to fall, the day holds especially complicated emotions.
Bringing forth life just as the Russian onslaught started to snatch other lives away gave rise to both joy and terror for new parents. When they blow out their children's first candle on Friday — and on all birthdays in years to come — other Ukrainians will be lighting candles for the dead.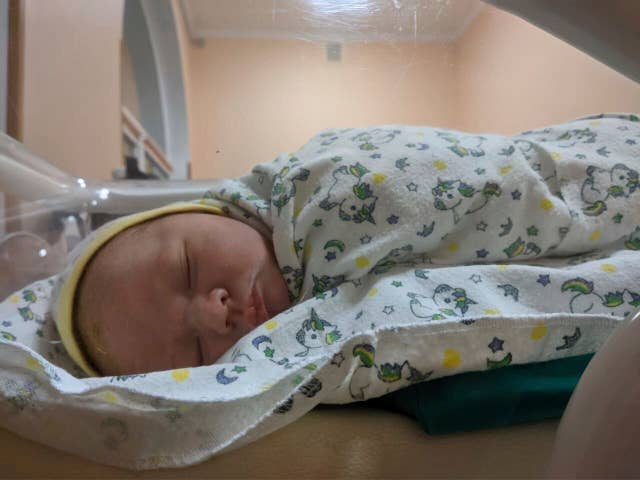 Of the past 365 days, Anastasiia said: "It's been a very difficult but very happy year for me."
Roman is healthy and seems so far untraumatised. Anastasiia herself, however, has not shaken off dark memories of his first days, particularly a missile attack that struck an apartment close to their maternity centre in the capital, Kyiv, two days after his birth.
"That was the first time I felt truly scared," she said. "You just grab your child and run to the basement."
Alina Mustafaieva, 30, became a first-time mother when her daughter, Yeva, was born as first explosions echoed across Kharkiv, Ukraine's second-largest city, close to the eastern border with Russia.
"We saw a glow looming over the city," she said. As nurses were checking Yeva, she forced herself to think positive thoughts.
"I gave birth to my Yeva, and I wanted to be happy about it," she said.
Alina has decided to move her daughter's celebrations back a day, to Saturday. Her one-year-old will have a party, a cake and balloons.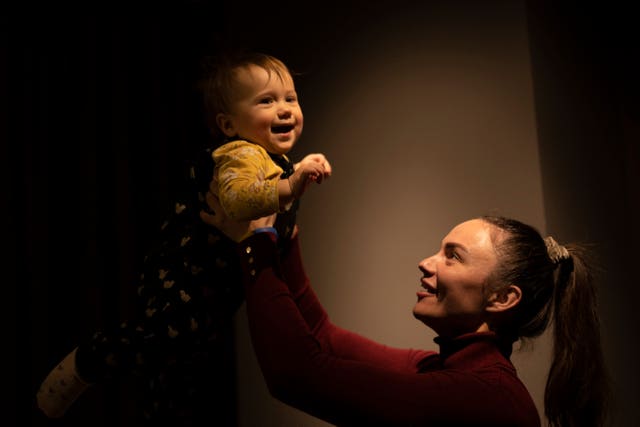 She wants Yeva to celebrate an "ordinary" birthday.
"It's a tragedy for the whole country, for every Ukrainian," she said. "My family was lucky, we didn't lose anyone or anything. But many did, and we have to share this loss together."
When explosions ring out Alina instinctively pulls Yeva away from the windows. She hopes Yeva is too young for any bad memories to stick.
"I don't think she'll remember everything she went through with me. All those escapes, long trips, hiding in the bomb shelter or even the blasts," Alina said. "But when she grows up, I will tell her everything in detail. I will be this type of parent who will explain to children what the Russian Federation represents."
Although parents hope that invasion-day babies will not be scarred by their first year of life, they cannot help but associate their toddlers' early milestones with bloodshed and fear.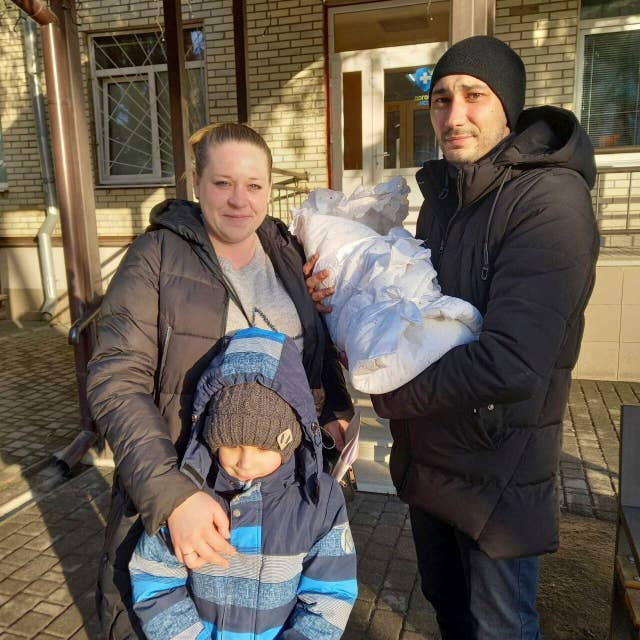 Anastasiia Havryshenko gave birth to her second child, a boy, shortly after midday on February 24, at a maternity centre in Sumy, another city repeatedly struck in the north east.
She felt helpless and burst into tears as she, the doctors and other mothers sat out an attack in a basement. She thought to herself: "I didn't give birth to him so he had to hide in the bomb shelter."
"I knew it wasn't supposed to be like this. It was not normal and psychologically, very tough. Very tough," she said.
She remembers Artem's first outdoor walk. The city streets were empty, most shops closed, but she wanted him to breathe fresh air. After 10 minutes outside, sirens blared. She heard a plane and saw people running into basements. She hurried back with Artem to her apartment.
Back inside, an explosion shattered windows and doors. Power and water went out.
"All I wanted was to understand why it was happening to us. What had we done wrong?" she said.
A year on, she has adapted as best she can, staying with her husband in Sumy and refusing to join the millions of refugees who have had to uproot in search of safety elsewhere.
Like millions of other Ukrainians, she has learned survival skills to cope with power outages caused by Russian bombardments. She cooks whenever electricity comes back on and maintains stocks of bottled water.
"We have just one life, so we need to move on, hope for the best, and to give what we can to our children," she said.
Artem arrived three weeks before his due date.
"We call Artem 'general' because he has a commander's character," Anastasiia said. "He is our general and our young defender. He himself knew when he should be born."